Founding owner, John Mariani has been working as a licensed mechanic since early 1950's with FIAT auto industry in (Frosinone, Italy).
GT AUTOMOTIVE was established in 1975 and has been a great source of auto services to many vehicle owners across the city of Toronto.
We offer a full spectrum auto service from simple brakes jobs, full engine rebuilding, tires & including the sale of fully certified used cars!
"Our goal has always been to get our customers back on the road with reliable services at reasonable costs!"
Whether you drive an Import or Domestic, we ensure you get a full qualified and satisfactory service. Our certified mechanics are experienced with all aspects of vehicle diagnostic & troubleshooting.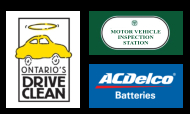 Aside from being a Certified Drive Clean shop, we are also an authorized tire dealer of most major tire brands like Michelin®, BFGoodrich®, Bridgestone, Firestone, and Continental and much more!